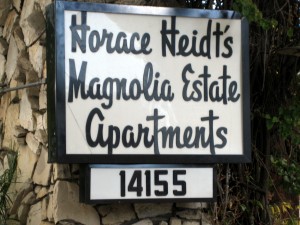 A while back, I finally did it . . . pulled a U-turn on busy Magnolia Boulevard in Sherman Oaks and circled back to the retro-looking "Horace Heidt's Magnolia Estate Apartments" sign. Curiosity had finally gotten the best of me. I drove into the dated-looking complex and followed a lane that meandered past small bungalows, two-story apartment buildings, swimming pools, palms and hibiscus, waterfalls, vacation-themed signs, and faux flamingoes. It felt like a small tropical resort from the 1950's. It was definitely tired-looking (in need of fresh paint and some of the water elements were not working), but certainly had the feel of a private little community. I snapped a few photos and drove away determined to solve this local mystery.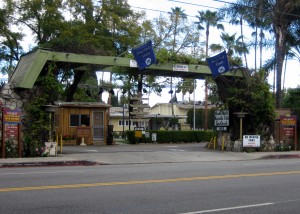 Who was Horace Heidt and what was the story behind this surprising little gem in the heart of the San Fernando Valley?
Turns out, Horace Heidt, Sr., was a big-band leader back in the 1930's—with popular radio programs on both CBS and NBC. He was originally from California, and in 1939, he came to Hollywood to co-star with actor Jimmy Stewart in a film called Pot o'Gold. It was based on Heidt's popular Depression-era radio program of the same name that was the first "money giveaway" show of its kind. The band leader needed a home, as well as a place to house the hundred or so members of his 30-piece orchestra. He ended up buying a 10-acre horse ranch in the San Fernando Valley. Back then, the Valley was considered "country," and was mostly populated by wheat fields; peach, orange, grapefruit, and lemon groves; ranches; farms; and large estates owned by movie stars. Its proximity to Hollywood and the entertainment industry made it the perfect getaway for celebrities such as Lucille Ball and Desi Arnaz, Jack Oakie, Barbara Stanwyck, Edward Everett Horton, James Cagney, Bob Hope, Bing Crosby, and many more.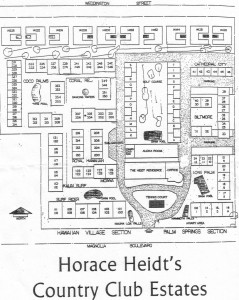 Heidt proceeded to transform his ranch into a small tropical country club. Taking his cue from the resort cultures of Palm Springs and Hawaii, he added themed bungalows and apartments, four
sparkling pools surrounded by lounge furniture, a par-three miniaturized 18-hole golf course, a tennis court, and a recreation room to host parties, luaus, and live talent shows. The complex was lushly landscaped with imported palm trees, hibiscus, bubbling waterfalls, tiki statues, and even a tiny "Kauai River." The Estates—originally designed for the pleasure of Heidt's family and co-workers—was later opened to and attracted all manner of show biz folks.
Today, the Magnolia Estates is home to nearly 300 residents, young and old alike and from all walks of life. It is a village of loyal folks who often share informal gatherings and "happy hours." The property is secluded behind a wall and has 160 apartments and 20 bungalows. It is still in the family and managed by son, Horace Heidt, Jr. (Heidt, Sr., died in 1986.), who has added a wing to the original ranch house that is now the Horace Heidt Museum. It is filled with memorabilia from the famed band leader's career. Though faded with time, Horace Heidt's Magnolia Apartments still casts a tropical (and kitschy) spell over those who take a moment to stop by.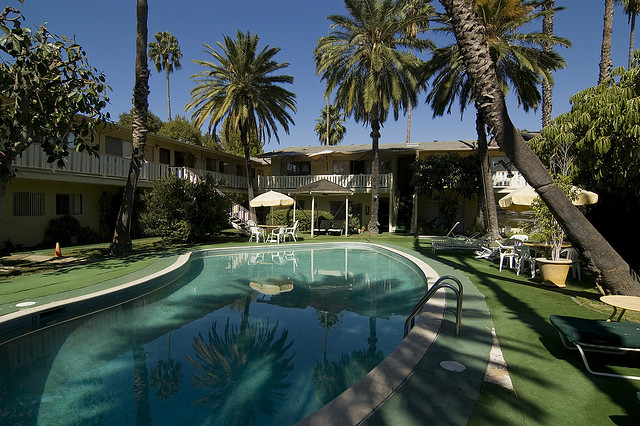 Links you may enjoy: