. . . not to mention that it was California's first, as well as the fourth in the entire USA. The Pico Drive-in . . .  seen in the photo below . . . opened on September 9, 1934, at 10850 Pico Boulevard and Westwood Blvd. It was later demolished in 1943. Today, the Westside Pavillion near UCLA occupies the original site.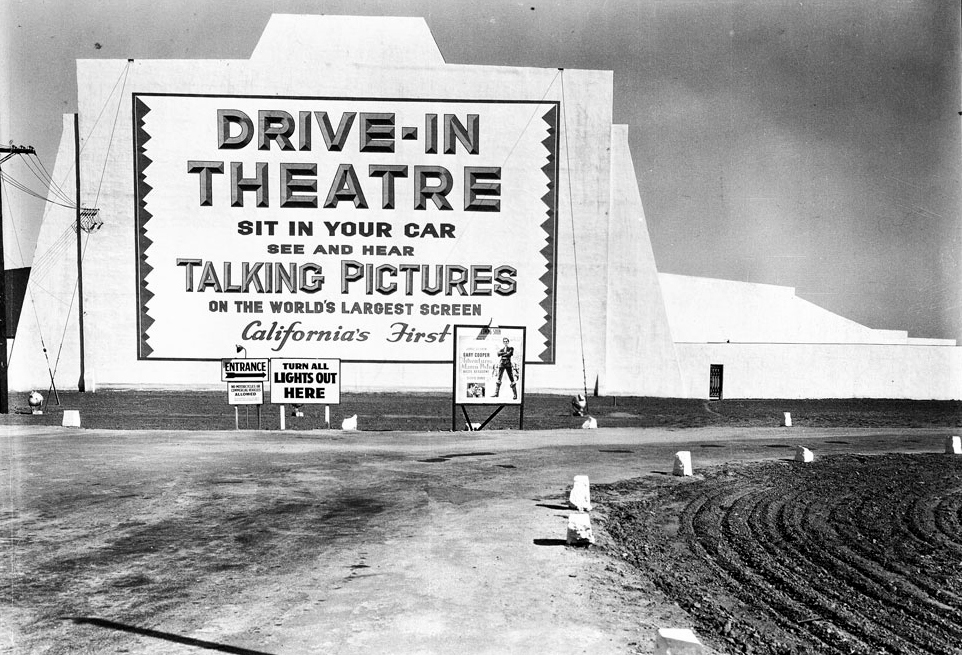 It also turns out that L.A. was home to California's second drive-in theater, the San Val. (Back then, Southern California land was cheap and plentiful enough to build these massive open-air theaters—and the mostly dry and temperate climate meant almost year-round outdoor movie viewing.)
The San Val (here the name is an abbreviated spin-off of it's location in the "San Fernando Valley") opened in 1938 at 2720 Winona Street and San Fernando Road in the city of Burbank. It survived into the mid-1970's and is now the site of various businesses.
Another gem, Gardena's Vermont Drive-in (17737 Vermont Avenue) featured a huge painting of Snow White and the Seven Dwarfs with a misty forest and castle in the background on the exterior of it's movie screen (which were essentally giant advertising billboards). The Vermont Drive-in once held 900 cars at a viewing. It was demolished in 1999 to make way for housing development.
Patented in 1933, the drive-in theater was the brainchild of a New Jersey businessman/inventor, Richard M. Hollingshead. He placed a 1928 Kodak projector on the hood of his car— which was parked in his home driveway—and used it to project onto a cloth screen nailed to trees in the backyard. A radio placed behind the screen provided the sounds. Once Hollingshead figured out the right angle for cars and how to raised the front ends with ramps for optimal viewing . . . well, the rest, as they say, was history. (Sound system refinements would follow later to allow for individual car speakers.)
Movie drive-ins really hit their heyday in the 1950's-1960's, when family cars became plentiful, and they remained popular into the late 70's.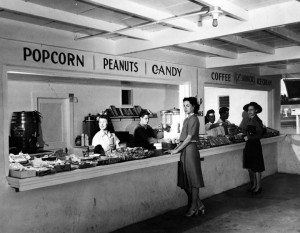 From a kid's standpoint, the best part was getting there early enough to play on the swings and merry-go-round at the base of the gi-normous movie screen, then loading up with goodies from the snack bar (XLNT tamales in a paper boat, anyone?). The cartoons would come on as the sky slowly darkened, and then it was time to switch into pajamas, grab your pillow, a stuffed animal, and . . . fall asleep.
These short YouTube clips happily capture a bit of the fun . . . so grab your popcorn and enjoy!
and just one more (very "Rocky and Bullwinkle-esque") from the 1960's that I couldn't resist!