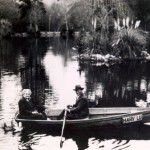 HOLLYWOOD COMES TO LANCASTER LAKE
As I mentioned in Parts 1 and 2 of the Lancaster Lake story, much of the economic viability of this carved-out-of-the-soil recreational lake depended on attracting the general public to rent boats or pay to go fishing. Another income source was the occasional use of Lancaster as a sort of backlot for Hollywood filmmaking. Paradoxically, this kind of use meant closing the lake to the same general public other efforts were working so hard to attract. However, renting the lake for movie shoots was more profitable than its other uses, and so from time to time, Lancaster Lake was off-limits to the public while filmmaking was in progress.
Most of the filming at Lancaster Lake was done during the 1930's and 1940's. Many popular movies had scenes filmed there, including the old Tarzan series starring the famous Olympic swimmer, Johnny Weissmuller. Because of my childhood interest in Tarzan and my friendship with the Lancaster family, once in a while they would allow me in to watch. (A more accurate way of putting it probably is that they would sometimes tolerate my presence when I snuck in over the back fence.)
On one such occasion I almost wished they hadn't allowed me to stay. What I saw caused me to lose all respect and admiration for Tarzan . . . or at least Tarzan, as played by Weissmuller. The scene involved Tarzan wrestling with a crocodile, but the problem was that the crocodile was already deader than a doornail and all the splashing and flopping back and forth was being caused by Weissmuller himself as he whipped the dead croc around. That was bad enough, but the real coup de grâce came when Grandpa Lancaster's grandson, my pal Marshall Murray, told me that he spotted a wardrobe man rushing over and putting a white bathrobe over the damp Weissmuller's shoulders as he got out of the lake. What a sissy! That did it for me.
Big-time movie stars Kathryn Hepburn and Joan Bennett came out to Lancaster Lake in 1933 to film many of the exteriors for Little Women. It was one of at least two movies with scenes shot at the lake that went on to receive Best Picture Academy Award nominations. The other was 1944's Mildred Pierce. While it was being made, some other kids and I had the opportunity to talk briefly with Ann Blyth. I remember thinking how friendly she was when she made it a point to come over to tell us what a nice little town we lived in and how great it must be for kids to grow up in Sunland.
For those who don't remember Ann Blyth, she was a pretty movie star and musical comedy actress most active during the 1940's and 50's. Joan Crawford won the Best Actress Academy Award for Mildred Pierce . . . and Ms. Blyth (who was "cast against type" for the role of Veda, Pierce's spoiled and scheming daughter) was nominated for Best Supporting Actress. In reality, taking the time to say "hello" to scruffy, barefoot, local kids was perfectly consistent with Ms. Blythe's wholesome and friendly reputation.
Soon after Little Women was made in 1933, some of the well-known Our Gang (aka Little Rascals) comedy series began filming at Lancaster Lake. These popular so-called movie "shorts" were often shown in theaters as a sort of bonus to go along with the two feature films on the bill. One of the more popular Our Gang shorts was "Little Sinner." Its plot line was built around the character Spanky, who was ditching Sunday school so he could go fishing. It's a wonder Grandpa Lancaster allowed his precious lake to be used for such a dastardly plot when, as we have seen in prior articles, he frequently used it to recruit kids to actually go to Sunday school. The last thing he would have done was make it available as a refuge for a kid ditching Sunday school! I write this only half kidding, as Grandpa could be very serious about this kind of thing. Perhaps he gave the green light to production once he knew the plot had Spanky getting himself into big trouble for ditching. Incidentally, this 1935 film provides an opportunity to see what Lancaster Lake looked like during these years. Among other things, the iconic bridge across a narrow part of the lake is prominently displayed in one of the longer scenes. For anyone interested, the picture may be seen on YouTube (lake appears at min 5.48 if you just want to skip ahead): http://www.youtube.com/watch?v=F05SDpqJBNc.
Even famous comedic actor Buster Keaton found himself acting at the lake on at least one occasion. He was there in 1940 playing one of the Li'l Abner comic book characters in the first of several movies bearing the name Li'l Abner. This is another old movie that can be viewed on YouTube . . . but frankly, it's hardly worth wading through this rather trite and corny movie to catch a few glimpses of the lake and bridge near the end. An interesting piece of irrelevant trivia is that comedian Milton Berle, of all people, is credited with writing the theme song for the movie.
Cowboy and well-known action hero Jack Holt was at Lancaster Lake in 1935 to make some scenes for The Awakening of Jim Burke, and a couple of years later so was one of Hollywood's most active directors, Charles Lamont. He was there in 1937 to direct Wallaby Jim of the Islands. Although probably best known as the director of many of the Abbott and Costello and Ma and Pa Kettle series of movies, as well as for being the discoverer of child actress, Shirley Temple, Mr. Lamont also directed many very low-budget "B movies," among which Wallaby certainly qualifies for inclusion. Grandpa Lancaster's daughter, Marie Murray, and grandson Marshall, managed to have their picture taken on the set for this movie.
When I encountered the name Charles Lamont in my research for this post, it brought back childhood memories of a nearby neighbor with the same last name when, before moving to the Sunland, our family lived in La Canada. This Mr. Lamont, who had become a friend of my mother and father, lived with the family of the well-known movie actor, Victor McLaglen. In mulling over the memory, I couldn't help but think that maybe he was Lamont, the famous director, or at the very least, perhaps related to him in some way. After all, the last names were the same, and I had a faint recollection from hearing my parents speak of him in later years, that their friend's first name was also "Charles." Finally, it certainly didn't diminish possibilities for him to have lived with Victor McLaglen, one of the biggest names in motion pictures at the time.
My thinking was that if I could verify that our family friend was the famous director or related to him, it would be a wonderful "small world" story with which to end this story. Unfortunately, further investigation produced the opposite result. I was eventually able to discuss the question with McLaglen's granddaughter, Gwyneth Horder-Payton, today a successful TV director in her own right. After first checking with her uncle (Victor's son), Andrew McLaglen, now 93 and who himself has had a very successful directing career, Horder-Payton advised that the two men were NOT the same, and indeed, were not even relatives.
She explained that her grandmother's maiden name was Lamont, and that the man living with the family back in the 1930's was her grandmother's father, Albert Charles ("Ace") Lamont who, following a career as a concert pianist in England, came over to live with the family in La Canada. C'est la vie. It just seemed like a heck of a note to finish on . . . true facts sure can ruin a good ending to the story.
The following two tabs change content below.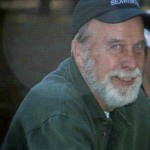 Tom Gilfoy
Tom Gilfoy is a retired attorney, local writer and life-long resident of the Foothills area in Southern California.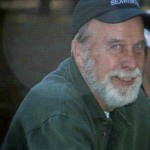 Latest posts by Tom Gilfoy (see all)