"Tarzana"—it's one of L.A.'s true burbs. Drive down Ventura Boulevard (or up the 101 toward Topanga) and you are there. Nearly nine miles square, it is pure San Fernando Valley with a ranch flair! Ever wondered how the town got its name? Perhaps the word derives from So Cal's Spanish or Native American roots? Nope—that's not it. But enter famous American author, Edgar Rice Burroughs—creator of Tarzan of the Apes—and the story is simple. Really.
Once home to a series of large cattle ranches, the area of the Valley in question was purchased in 1909 by the Los Angeles Suburban Homes Company for subdivision and development. One of the company's investors, Los Angeles Times newspaper founder and publisher, General Harrison Gray Otis, personally took claim to several hundred acres that would later become the center of town and beyond.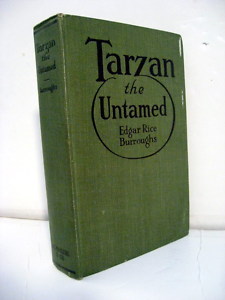 In 1917, Otis died, and the property was put up for sale. Burroughs, fresh off his success with the Tarzan of the Apes books—and then the 1918 debut of Hollywood's first Tarzan movie—was in the process of moving his family to Los Angeles to be closer to the film industry. He fell in love with and purchased General Otis' 550-acre ranch for $125,000. The main house, "Milaflores" ("thousands of flowers"), was a 4500 sq. ft. hacienda, with twenty rooms; gardens, fields, fruit orchards; and even Angora goats. Burroughs promptly renamed the rancho "Tarzana."
As it turns out, Burroughs considered himself as much a businessman as he was a money-making author. His true interest was in the ability to gain wealth. In time, he created Edgar Rice Burroughs, Inc., and the role of the company was to manage and grow his publishing and property interests.
By 1922, Burroughs had set aside the 100 acres of his rancho land closest to Ventura Boulevard to create a community—and so the town of Tarzana was born. In 1930, it was given its own postmark and post office. Burroughs intended Tarzana to become a "proper American suburb," dotted with lovely homes and country clubs.  And so it was.
Over the years, Burroughs would come and go from the area. He was twice married and divorced; and despite all his literary and financial achievement, he spent the last years of his life in a small bungalow on a half acre lot just off Ventura Boulevard in Encino.
After his death in 1950, his ashes were buried under a walnut tree in front of the Burroughs Offices at 18354 Ventura Blvd.
The man who brought Tarzana to life—a character himself—was an interesting blend of popular writer and property developer who will always hold a unique place in Southern California history.
"Pine no more my lassie/ My little lad be gay!/ For we are going back/ To our own Tarzana Ranch/ To our own Tarzana Ranch far away!"  (ERB)