I once worked in El Segundo, a small city bordered to the north by Los Angeles International Airport (LAX) and to the west by remnants of the demolished Playa Del Rey/Surfridge neighborhood, perched on the cliffs above Vista Del Mar (Pacific Coast Highway, aka PCH). Sometimes on my lunch hour, I would make the short drive to the beach and then up Sandpiper, one of its steep, abandoned streets. Parked beside an empty curb and munching a sandwich, I would thoroughly enjoy the calming combination of breezy salt air, dull roar of waves, and bright sun glittering on the sea's horizon.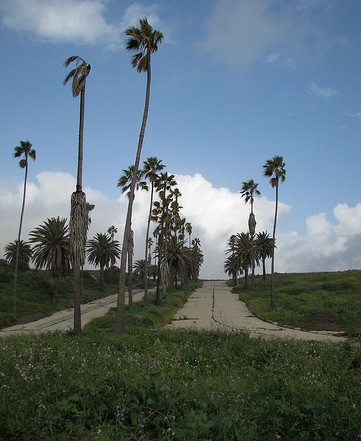 I never got out of my car to walk around . . . but I would usually muse about what could have happened to erase an entire neighborhood from this most beautiful of spots.
Sometimes the sky would darken with the monster shadow of a jetliner rising up from the canyon to my right, engines roaring and so close that it seemed I could almost see passengers' faces in the tiny windows. It was such an ungodly loud and surreal sight! And so it seemed to me that the wide and weed-filled curving streets, the panorama of empty lots with concrete stairs and driveways to nowhere, and the big old palm trees growing amid clumps of dune grasses that dotted this old neighborhood must have an interesting story to tell . . . I just didn't know what it was. But now I do.
Back in the early 1920's, this area was called Palisades Del Rey ("the King's Cliffs")—a wealthy neighborhood built next to the equally majestic-sounding, but small beach community of Playa Del Rey ("King's Beach").
L.A. developers, Dickinson & Gillespie Co., successfully marketed the area as a pricey and exclusive enclave for the rich, and as "the last of the beaches" . . .  advertising that "never again will you have . . . the opportunity of procuring at original cost, Beach Lots, Palisade Sites, Investment Sites and Boulevard Frontages—All Improved."  Sales boomed, and soon the sandy cliffs morphed into an orderly array of curving streets and roomy homes built in Spanish Colonial and other colloquial styles of the day. A string of small businesses and shops were constructed below on Vista Del Mar. Parks and a beachfront clubhouse were added to the mix. Dockweiler Beach was just a short walking distance to the south and streetcars provided cross-town access for all.
In 1928, the city of Los Angeles built the small Mines Airport nearby to accommodate members of the "flying set," who liked to arrive for their visits in single-engine propeller planes. And with this, the die was unwittingly cast for the eventual destruction of beautiful Palisades Del Rey.
Because who could have predicted, in the 1920's, just what that little municipal airport would become with the advent of the Jet Age? Its name was changed to Los Angeles International Airport (LAX) in 1938. Increased use meant that long runways were added, and by the 1960's, the loud scream of jet engines made living in Palisades Del Rey and next-door Surfridge Estates a noisy nightmare. Beachfront or not, noise levels and safety fears caused property values to sink. Owners valiantly fought for their bit of ocean-adjacent paradise. And even after LAX wielded its ultimate trump card—eminent domain—for runway expansion, Palisades Del Rey/Surfridge neighbors battled on. Of course, in the end, the fight was lost . . . and when it was all said and done, more than 800 homes were bulldozed or relocated in stages during the late 1960's and into the 70's.
In time a massive chain link fence was put up around the abandoned area. To keep people out, of course . . . but also to protect the only bright spot in this whole story . . . and this is the part where the butterfly comes in.
Declared a federally-designated Endangered Species in 1975, the El Segundo Blue butterfly population is now protected and successfully regenerating in the ONLY place it can live and breed in the wild . . . on the Coast buckwheat grasses that thrive in and around the sand dunes that once held the Palisades Del Rey/Surfridge Estates. (Odd that the theme of "flight" remains forever linked to this place.)
Today, you can no longer drive up any of the streets into the old neighborhood . . . they are sealed off behind the endless chain link fencing. Sandpiper was officially closed to traffic post-911, for fears of a security threat. But if you have a moment sometime, stop along this fast-moving stretch of PCH and take a look up at the ghostly neighborhood that once was. Imagine the views and what it might have been like to live there before the Jet Age came along and changed everything.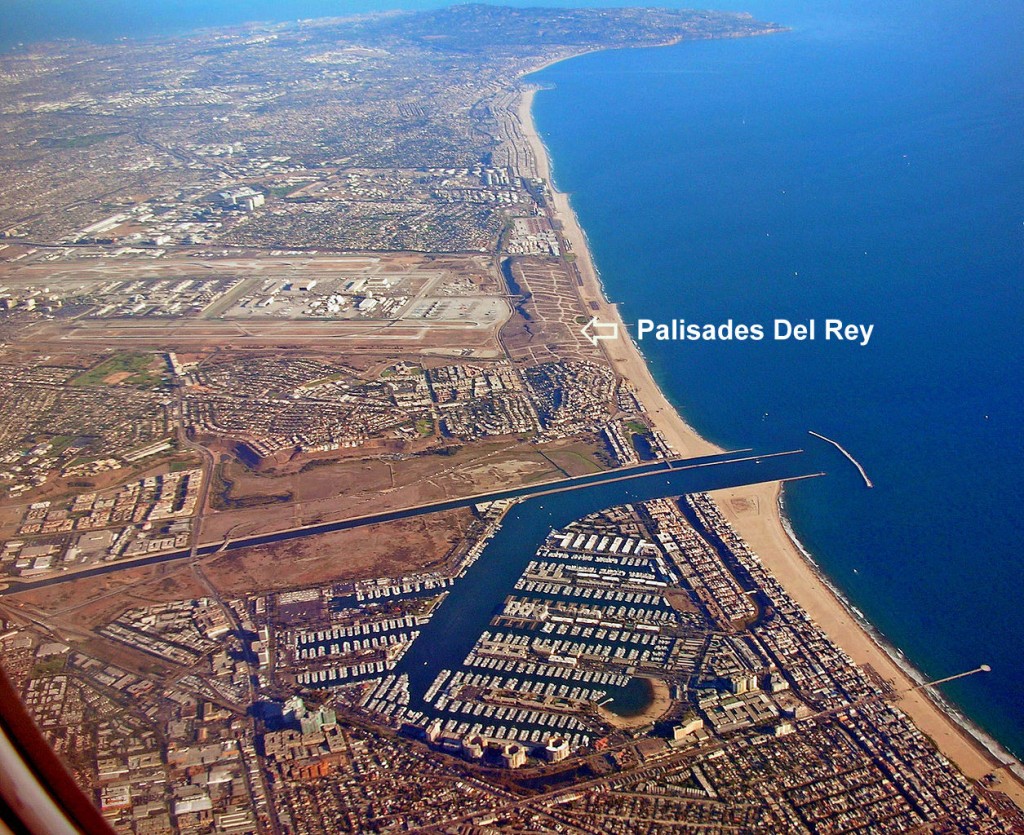 GREAT short video captures the eerieness of this abandoned area: