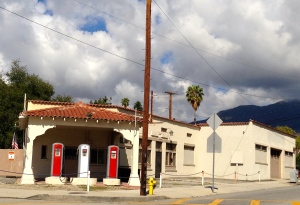 In addition to being home to the fabulous Aztec Hotel, Monrovia also has an awesome vintage gas station located on what is now a wide, side-street (Shamrock Ave.), just north of Huntington Drive. The building looks so preservation-worthy to me . . . so every now and then I stop by to snap a few photos. Recently, I was most happy to discover some information about this local gem in a cool little book, Life on Route 66: Personal Accounts Along the Mother Road to California.
It turns out that this particular gas station was, indeed, one of the original Route 66 businesses. The Mother Road, as it passed from the town of Duarte and then into Monrovia heading west, underwent some confusing alignments and this odd jog seems to be one of them.
From the Hellers' book: "Route 66 through Duarte is now named Huntington Drive, and after traveling a few blocks west across the Monrovia border, the early route curves to the north on Shamrock, and almost immediately a photo op appears: a classic-style gas station with vintage gas pumps. It is said that a movie about the Lindbergh kidnapping was filmed here. A bit north, lined with Craftsman homes, the early route turns west as Foothill Boulevard." (p. 99-100)
The old station sits empty today, but with its sunny corner location across the street from a school and large park and just down the block from a small neighborhood market/restaurant, it seems like it would make a great little coffee spot. It might be that there are old gas wells under the site that preclude developing the property, but that's beyond my scope. Anyway, I do hope the city of Monrovia keeps its eye on this one . . . it really is a tangible blast from the Mother Road's past, and (like the Hellers' say in their book), it IS a nice photo-op.