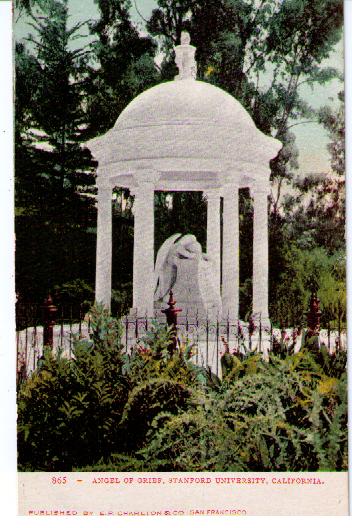 I remember the first time I stumbled across the statue of the weeping angel on campus. I had no idea that the entire Leland Stanford family (father, mother, and son) was buried right there, in a dusty and secluded grove of oaks between two towering palm trees. This part of Stanford (at the juncture of Arboretum and Quarry Roads, and very close to the bustling traffic on El Camino Real) was a pretty isolated spot, criss-crossed by dirt bike paths and weed patches. It was late afternoon and mostly I remember being surprised at the eerie sight of a large marble angel kneeling over a funeral altar, wings drooping, head buried in her arms. A short distance away stood a small rectangular building guarded by four sphinxes. Over the iron-gated entrance was inscribed "Leland Stanford, Jane L. Stanford, and Leland Stanford, Jr." I soon learned that not many Stanford students or Palo Altans seemed to know about the grave site. But in time, I did meet a Stanford alumnus from the 1940's who recalled the sobbing angel. She went on to say that the "Stanford Tombs" (another nickname) had been a popular "make out" spot in her day. Back then, an old carriage path meandered to the Stanford Mausoleum and there were rumors of ghostly sightings in the dark and woodsy area late at night.
So who does the marble angel mourn? That would be Henry Clay Lathrop, Jane Stanford's brother. In 1900, Jane commissioned a reproduction of the Angel of Grief (1894), by American sculptor, William Wetmore Story. She selected the statue from a photograph and had it carved in Tuscany, Italy.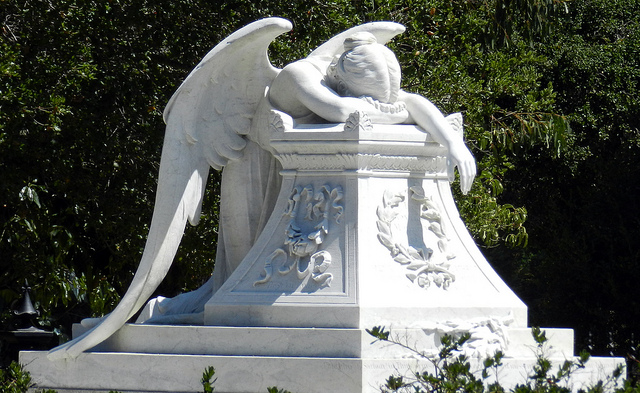 The statue (including a canopy and set of stairs) was created from a single piece of Carrere marble per Jane's specifications. When completed, the seven-ton statue was nearly 6-feet across and more than 7-feet high. Predictably, its transportation to Palo Alto was difficult. The statue was first hoisted onto a small ship and sailed 60 miles north up the Tyrrhenian Sea to the port at Genoa. It was then placed on a steamer and transported across the Atlantic Ocean to New Orleans. From there, the statue moved cross-country via railroad flat car . . . arriving three months later at the Palo Alto train station, just yards from its final resting place at Stanford. This original angel was rolled into place in March of 1901, and a bronze urn containing Henry Lathrop's ashes was set into an opening in the statue's base. I say original angel, because when the 1906 San Francisco earthquake hit, the canopy collapsed and destroyed the marble angel below. She was replaced two years later with another reproduction, sans canopy.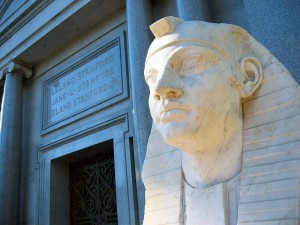 Stanford University (Leland Stanford, Jr., University) is, of course, a giant memorial itself. The Stanfords' only child, Leland Stanford, Jr., died of typhoid fever in 1884 while traveling in Florence, Italy. He was just a couple of months short of his 16th birthday. In their tremendous grief, the Stanfords' declared that "the children of California shall be our children." They donated land from their Palo Alto horse farm and the bulk of their fortune to develop the university in their son's honor (Leland Stanford, Sr., was one of California's famous "Big Four," which included Charles Crocker, Mark Hopkins, and Collis P. Huntington, all key investors in the Central Pacific Railroad. Later, Stanford would become president of the Southern Pacific Railroad and also Governor of California, in 1862.)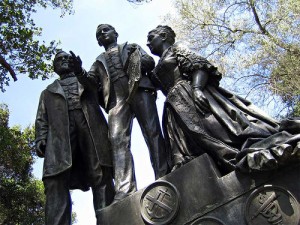 In 1893, Leland Stanford, Sr., died of heart failure at his home in Palo Alto. He was buried in the family mausoleum on the Stanford campus. His wife, Jane, died in 1905, and was interred there as well. The surprising off-the-beaten-track location of the Stanford Angel has always intrigued me. The controversy over how Jane Stanford died is another curiosity–and one that brings the story back to Hawaii.