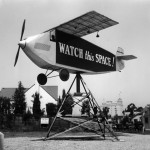 It was a veritable juggernaut—the number and variety of roadside novelty ("vernacular," "programmatic," or "mimetic") buildings that once dotted the urban landscape in Los Angeles.  Like the examples featured in an related earlier post, these "hey-you-can't miss-me!" buildings were made to pull automobile drivers right off the road—to eat, shop, or stay the night. Quirky, sassy, humorous, and often just crude in design (I mean, a giant pumpkin??)—these whimsical oddities were an important part of the burgeoning American car culture here in Los Angeles and across the entire U.S.A. If this is a topic that fascinates you as much as it fascinates me, then let me refer you to the best book ever written on the subject—local author Jim Heimann's California Crazy and Beyond: Roadside Vernacular Architecture
(2001). You can usually find a copy on Amazon—and it is well worth it! The book is filled with hundreds of vintage photos and pages of well-researched text and is fun to read. But I digress . . .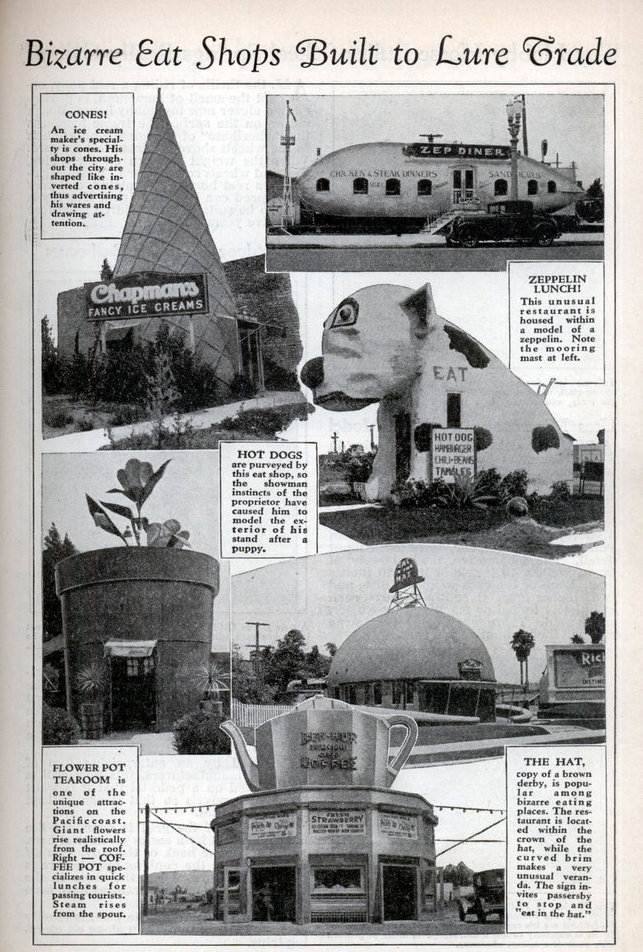 According to Heimann, the "golden age" of programmatic architecture spanned a period of ten years, from 1924-1934. During that time, the bulk of these quirky roadside buildings cropped up all around Los Angeles and cities beyond. Some of those took their architectural theme from the new and exciting concept of air travel. Some of these were:
 . . . the Airplane Cafe (c. 1924): Once located on Ventura Boulevard in the San Fernando Valley (exact address unknown), the Airplane Cafe was designed in the shape of a plane, complete with wheels, wings, and a propeller. The structure sat on raised slabs of wood.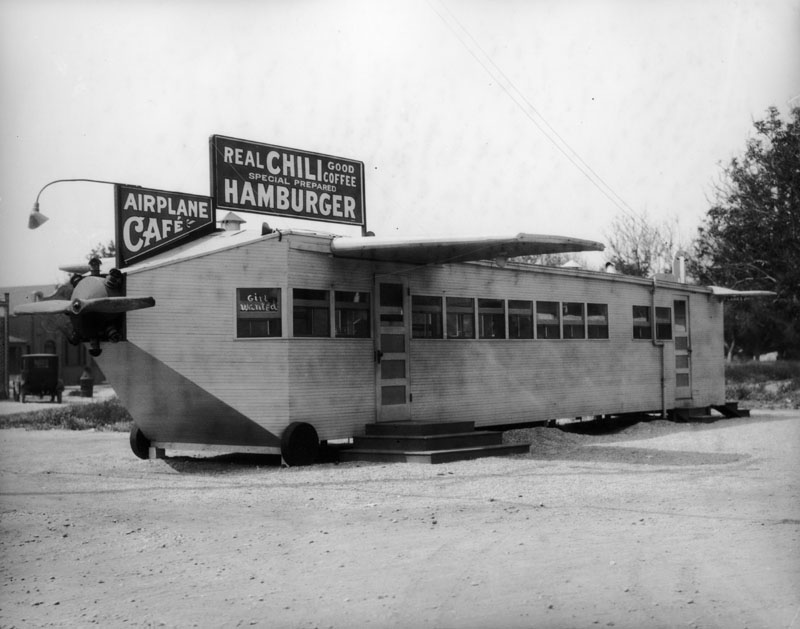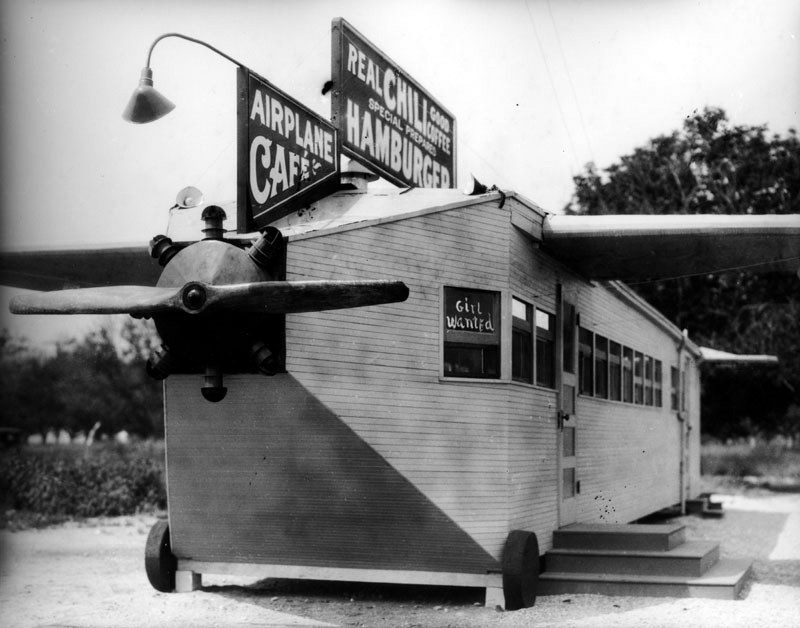 . . .  the Zep Diner (c. 1928): Located at 515 W. Florence Avenue near Figueroa, the Zep Diner was part of the airship craze of the 1920's and 1930's. It was open 24 hours and was home to the "Hinden burger."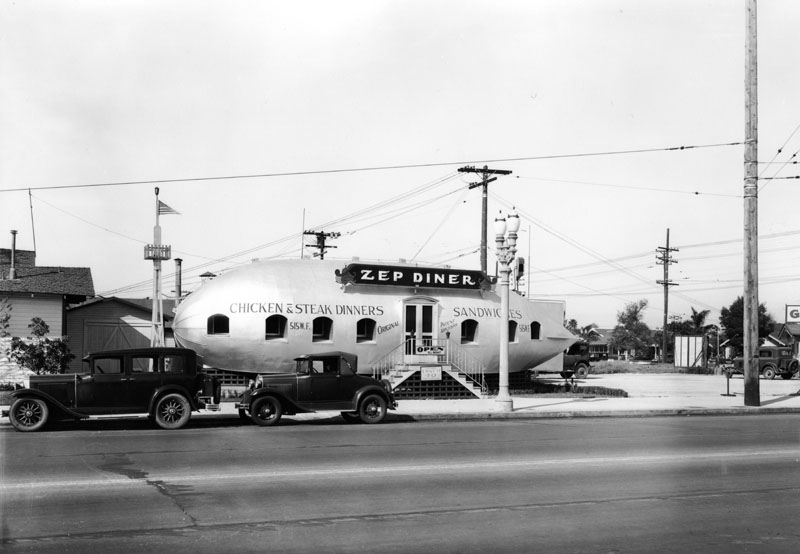 . . . and then there was The Dugout (c.1927): This sandwich stand was located at 6157 E. Whittier Boulevard in Montebello and featured a simulated plane crash and sandbagged trenches evocative of World War I.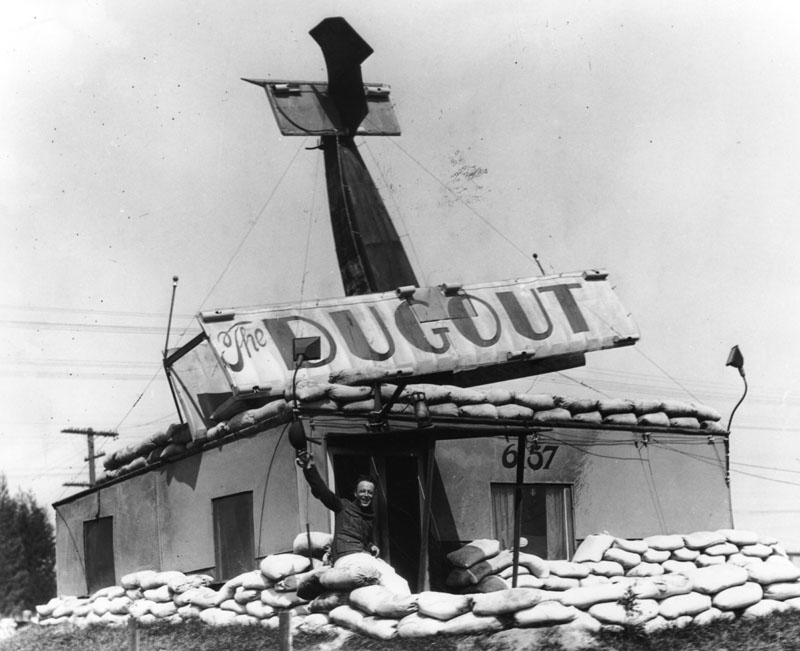 These buildings are long gone, but thank goodness their whimsicality will live on in vintage photos like these!