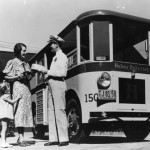 "Daily at your door" . . . that was the Culver City-based Helms Bakeries motto. Long-time Angelenos of a certain age will certainly recall the signature blue-and-creamy yellow Helms Bakeries trucks, their merry double-toot whistle that could be heard a few neighborhood blocks away, and the stylish uniformed delivery drivers. And the anticipation that awaited the arrival of those wood-paneled trucks pulling up to the curb . . . built-in shelves and wooden drawers loaded with orderly rows of fresh breads, cakes, cookies, donuts, etc. These are all a part of the collective So Cal memory. Do you remember waiting for the Helms truck?
Today, word on the street is that fall 2013 will see the re-opening of L.A.'s iconic "Helms Bakery" in Culver City . . . forty-four years after the original business closed. However, this newest addition to the popular and historic Helms Bakery District will be totally 21st century—a multi-use space that will include a full service restaurant, a bakery, a take-away counter, and a store for specialty items. (The Helms Bakery District is located at 8800 Venice Boulevard.)
The original Helms was an industrial bakery that operated from 1931 to 1969. It was founded by Paul Helms, an ambitious New York transplant.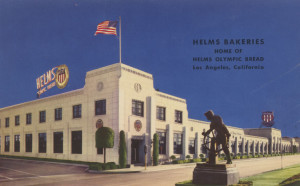 Every weekday morning, his fleet of Helms trucks would load up and cover the Los Angeles Basin . . . long before our City of the Angel's famed freeway system was in place. Each truck made deliveries to assigned neighborhoods. As each driver moved around his area, he would pull twice on the distinctive whistle and keep an eye out for homes displaying a blue placard with the big letter "H" in a window. Customers (mostly housewives and children) would head out to meet the truck, waving at the driver to stop so they could maker their selections.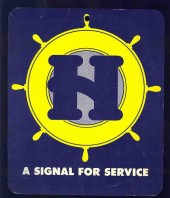 Like your regular postman, the Helms driver often became a part of the community that he served year after year. In 1932, Helms Bakeries became the official bread supplier for the Olympics, which were held in Los Angeles that year. The company's signature "Olympic Bread" was packaged in distinctive wrapping that sported the famous five-ringed Olympic symbol. The recently restored Helms Bakeries neon sign still proudly advertises that Olympic history.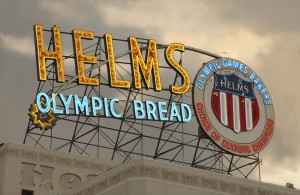 Helms ceased operation in 1969. Ultimately, it was doomed by the change in Angeleno's shopping habits . . . housewives weren't home during the day, they were often at work. Grocery store chains were creating their own bakeries that were competitive and convenient for hurried shoppers. It was, of course, the end of era . . . and a harbinger of the fast-paced, fast-food, convenience market lifestyle to come.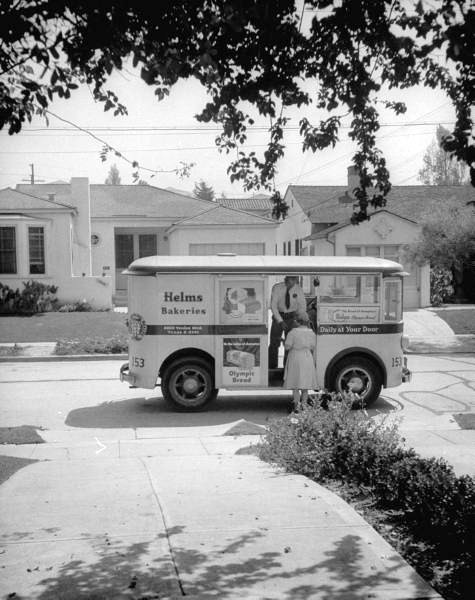 To see a Helms Bakeries truck for real, head to the Petersen Automotive  Museum on Wilshire Blvd. in West L.A. . . . a fab place that is always worth the visit!