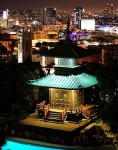 It is definitely one of L.A.'s most historic and unique restaurants. Popular, sophisticated, cool, and utterly atmospheric, Yamashiro has been a local dining treasure for decades. Its public gardens and view-struck Pagoda Bar alone is worth a visit—all in all, an amazing spot to take in distant Pacific Ocean sunsets or the sparkling blanket of L.A.'s city lights after dark.
But this is not a restaurant review. Because it is Yamashiro's first incarnation—as the private and quirky Hollywood Hills residence of Charles and Adolph Bernheimer—that really fascinates me. Old postcards and vintage photographs portray their original hilltop estate, designed in 1911 and completed in 1914.
It was the Bernheimer brothers' dream to create an exact replica of a palace they had seen while traveling in the Yamashiro Mountains near Kyoto, Japan. ("Yamashiro" is the Japanese word for "mountain palace"). Their exotic mansion was built high above Hollywood Boulevard on a seven-acre lot (back when land in the fledgling city was cheap and plentiful).  It was their home, but also a place to exhibit their priceless collection of Asian treasures.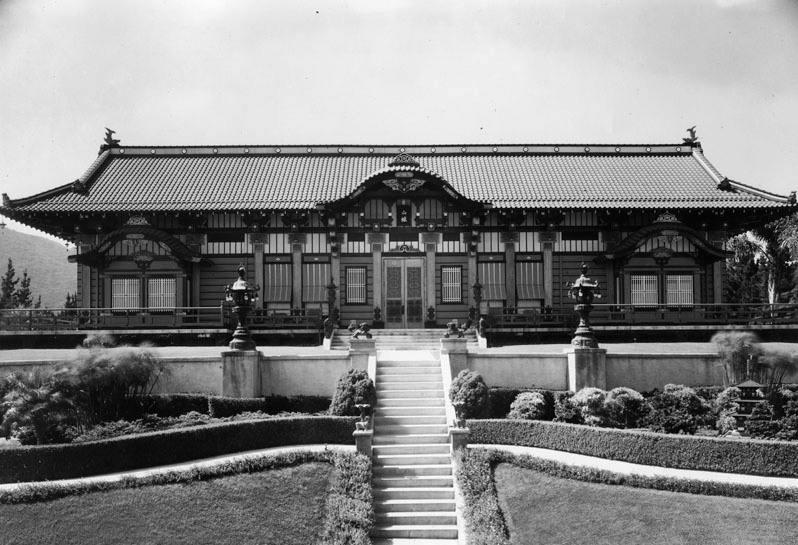 The Bernheimers brought hundreds of skilled craftsmen from the East to build the ten-room teak and cedar main house. Its design was accented with carved rafters lacquered in gold and tipped with bronze dragons. Surrounding Japanese gardens were landscaped at a cost of nearly $2 million, and included hillside terraces covered with 30,000 varieties of trees and colorful plants. The grounds were dotted with waterfalls, streams, ponds loaded with goldfish, and even a private zoo that was home to exotic birds and monkeys. There was even a miniature Japanese village that featured tiny houseboats floating through a maze of little canals.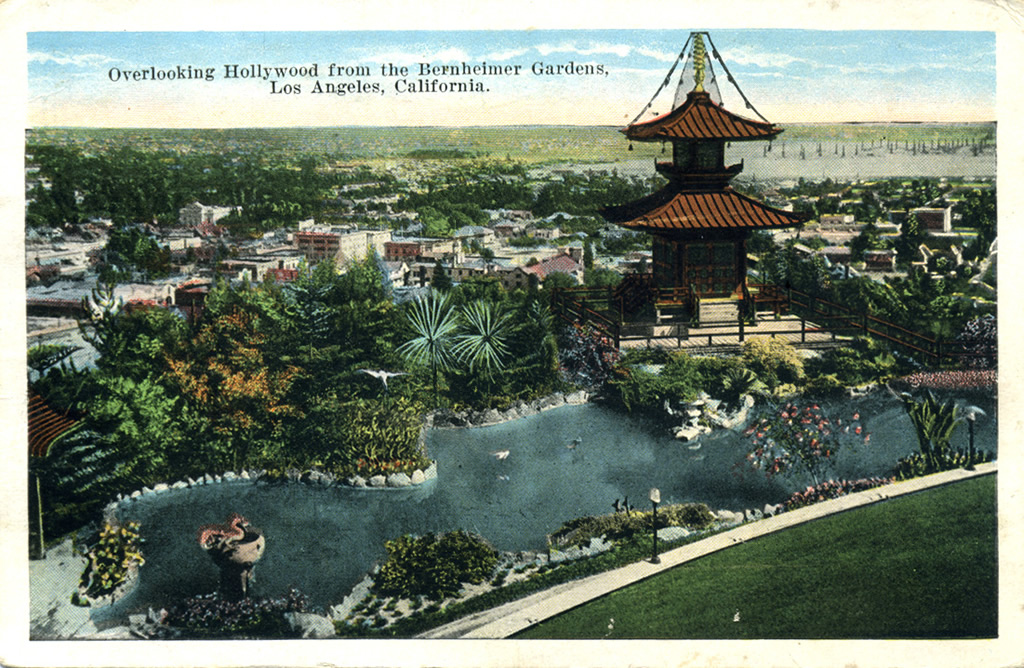 Major focal points included the 300-step stairway leading up the steep terraced hillside gardens to the main house, a 600-year-old stone pagoda imported to stand beside a lake filled with black swans, and the Sacred Inner Court. The court formed a lovely interior garden at the center of the mansion. It was filled with fish ponds and provided light and air to the surrounding rooms, which had walls covered in tapestries and silk.
In 1922, one of the Bernheimer brothers died and most of the Asian treasures were auctioned off. However, the residence became a popular gathering spot for the Hollywood elite, such as Lillian Gish, Ramon Navarro, Charlie Chaplin, and a host of other actors, directors, writers, and movie-industry folk. The Bernheimers' hilltop retreat became an integral part of Hollywood's Golden Age.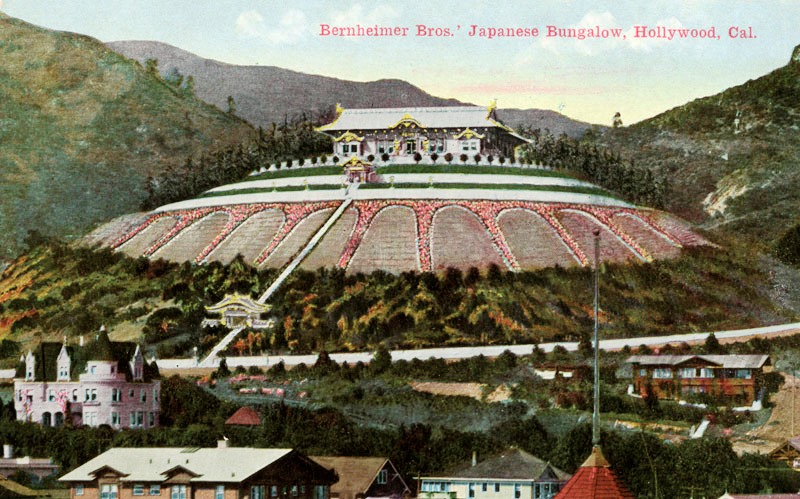 The property survived the Great Depression and the World War II years, but ultimately suffered from vandals and years of deterioration. In 1948, and on the verge of demolition, the estate was purchased by businessman Thomas O. Glover. He planned to tear down the Bernheimer house and build apartments, but instead decided to restore the building once old architectural treasures came to light.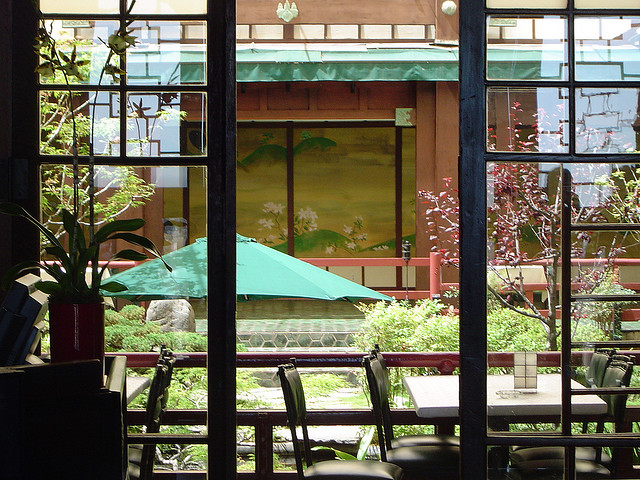 Over the years, the Glover family continued the restoration and renovation process, while creating the Yamashiro dining location that locals love to brag about. (Today, the old stone pagoda stands next to a modern swimming pool, the Inner Court is used for dining and weddings, and the colorful hillside gardens are available for public touring.)
Yamashiro and its public gardens are located at 1999 N. Sycamore, Hollywood. It has been a Los Angeles Historic-Cultural Monument since 2008.